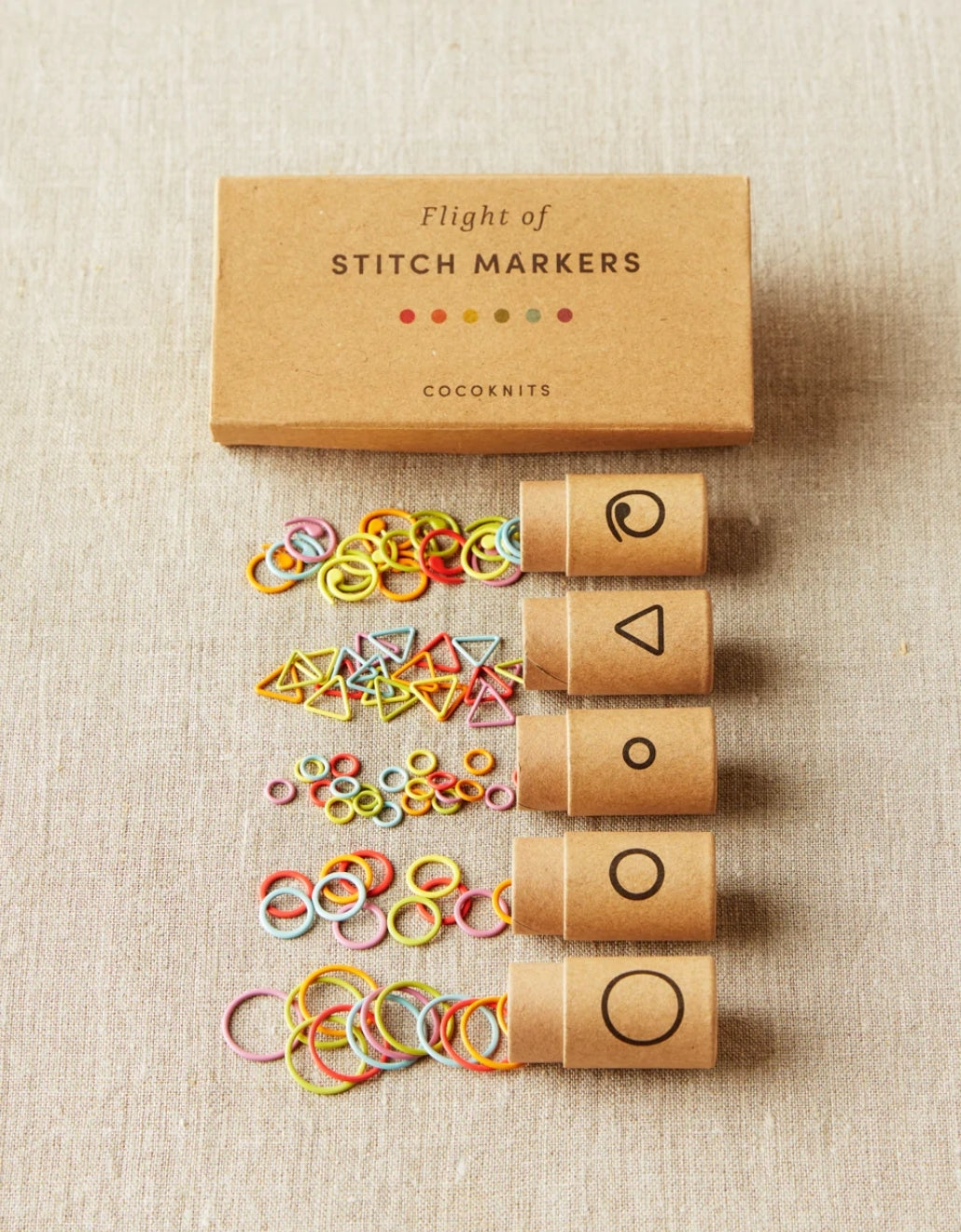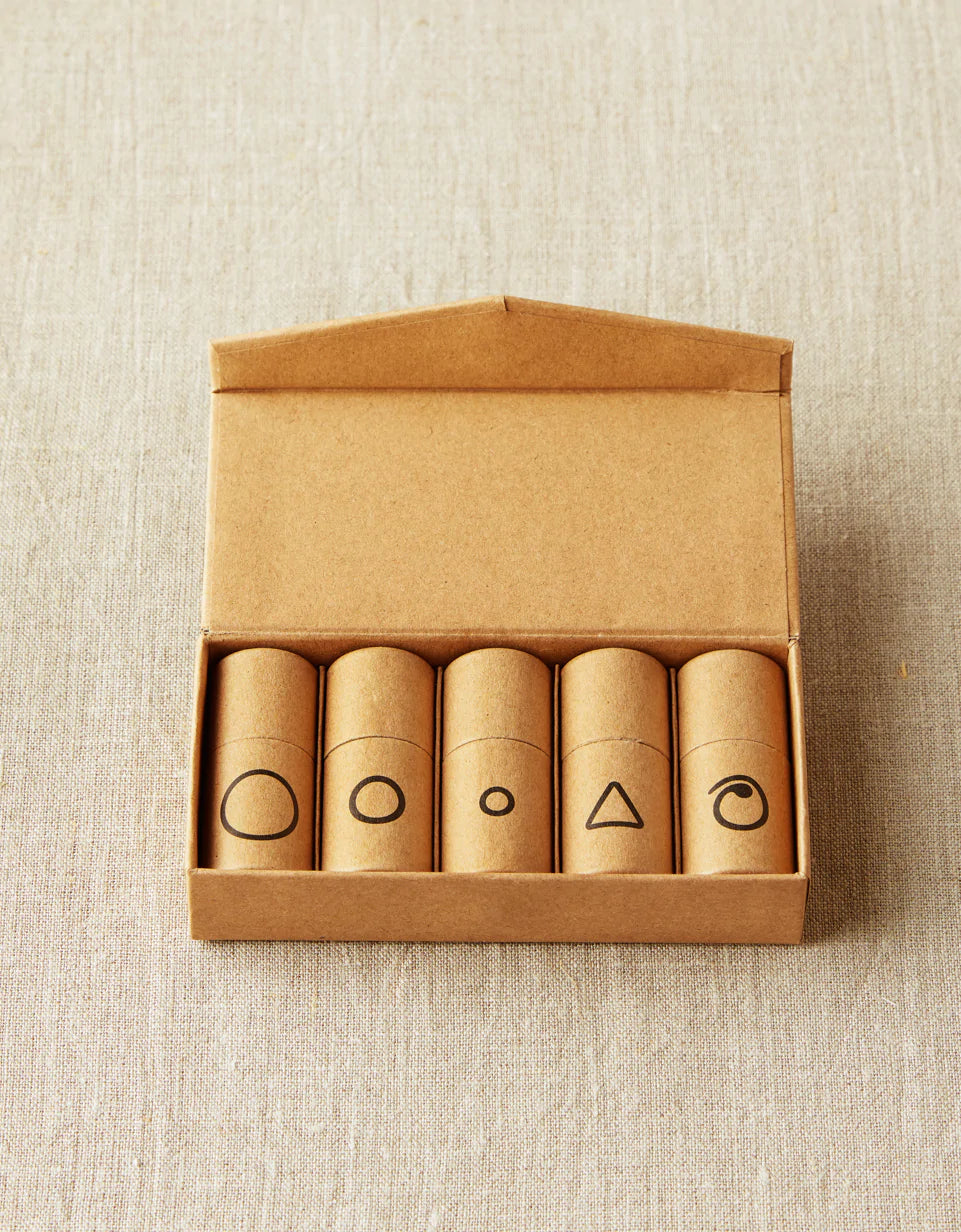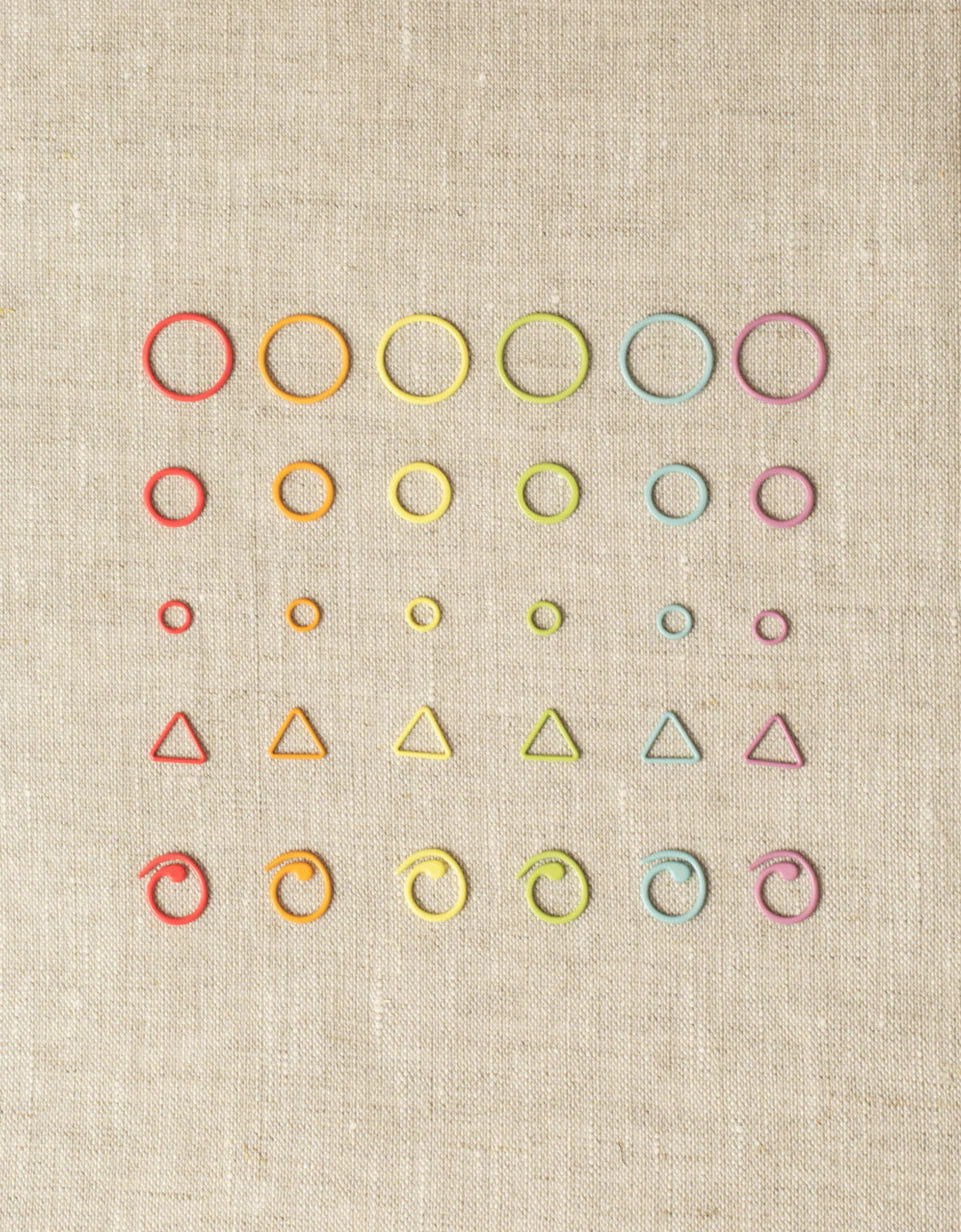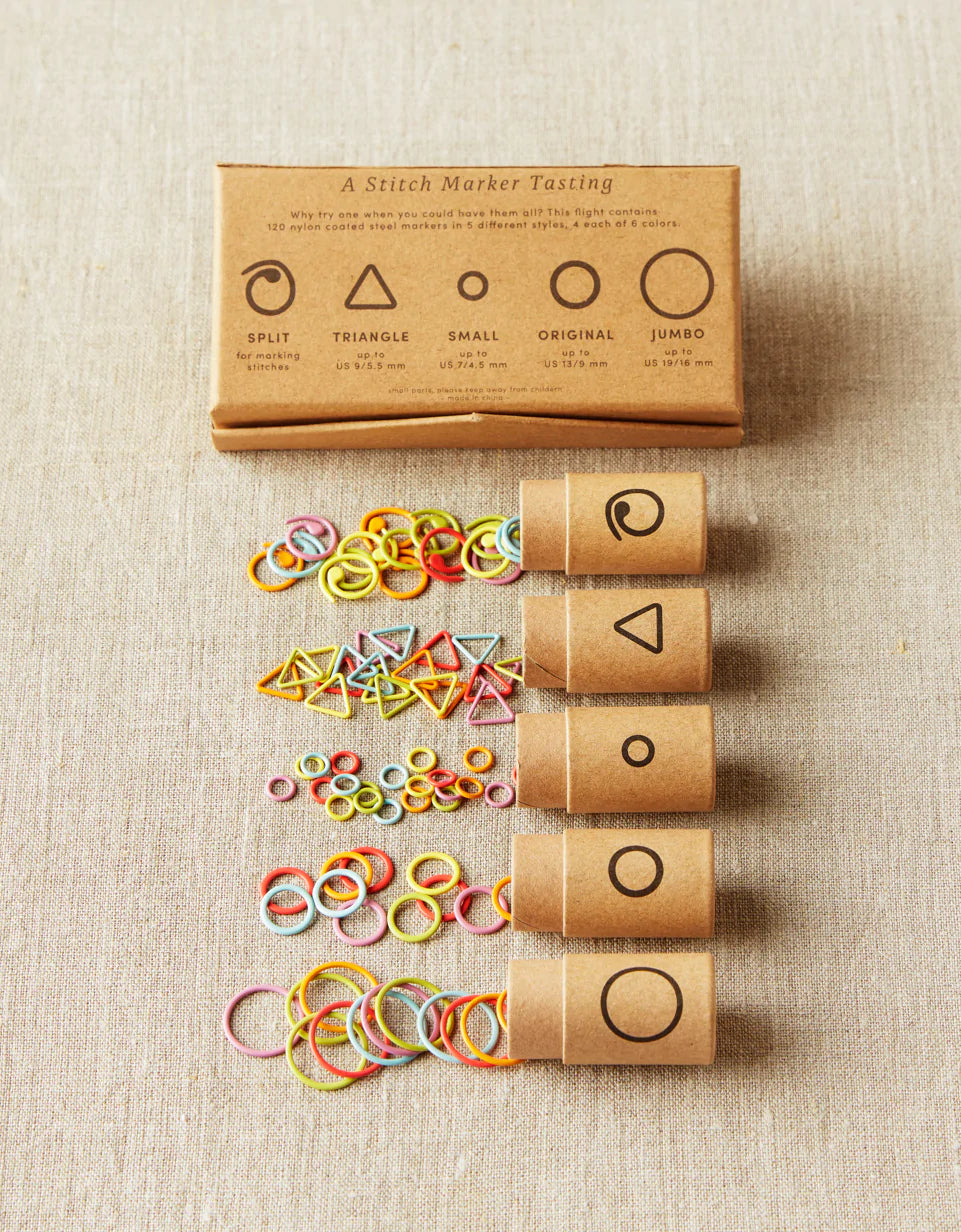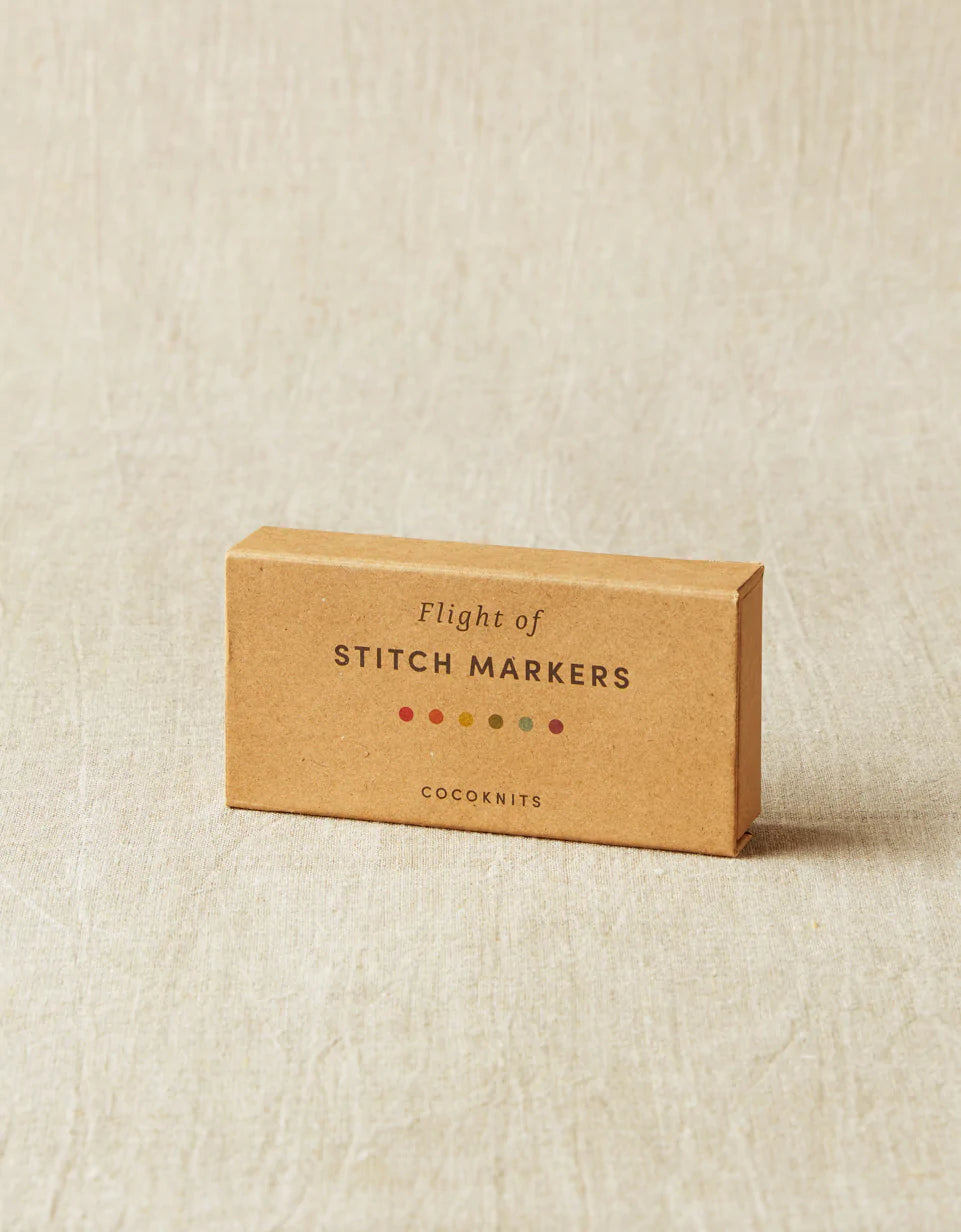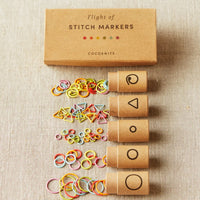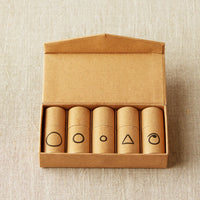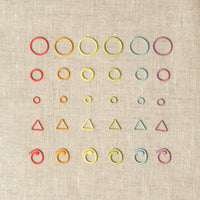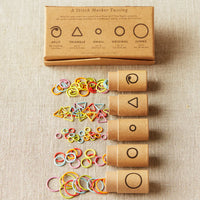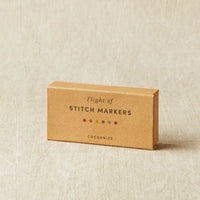 Flight of Stitch Markers | Cocoknits
DESCRIPTION

DETAILS

HOW IT'S MADE

HOW TO USE
If you're unsure which Cocoknits stitch markers would work best for you, the Flight of Stitch Markers is a great sampling of a variety of their shapes and sizes.
There are so many reasons why we love these stitch markers, where do we begin? 
All of Cocoknits' stitch markers are just so simple and beautiful in their design. They're all made of nylon coated steel, which means they have a nice weight to them and they're long lasting. It also means they'll stick to your Maker's Keep - so no more lost stitch markers! The bright colours on these markers are endlessly helpful as well. Not only are they alot easier to see if you drop them on the couch or the floor, but they can also really pop against your yarn and be a great visual reminder for the next step in your knitting. 
MATERIAL: Nylon coated steel
COLOURS: Magenta, Tangerine, Lemon, Lime, Sky, and Lilac
AMOUNT: 120 markers in total, 24 of each style, 4 of each colour
INCLUDES:
- Triangle stitch markers: up to US 9 / 5.5mm needles
- Small stitch markers: up to US 7 / 4.5mm needles
- Original stitch markers: up to US 13 / 9mm needles
- Jumbo stitch markers: up to US 19 / 16mm needles
- Split ring markers: hook onto stitches
Cocoknits products are made with high quality materials which are ethically sourced from the US, China, and Morocco. Cocoknits also packages most of their products in recyclable, biodegradable kraft paper. Learn more about the brand's values here.
The best way to use these markers is to use certain colours to alert you to different tasks - like a colour code. For example, you can pair two markers of the same colour to mark the edges of your raglan increases. Or use warm colours to mark increases and cool colours for decreases. We also always put the brightest, most contrasting colour at the beginning of our round, so we never forget which one it is. Another great way to use these is to mark every 10 stitches when you're casting on - it makes it super easy to count a large number of stitches.